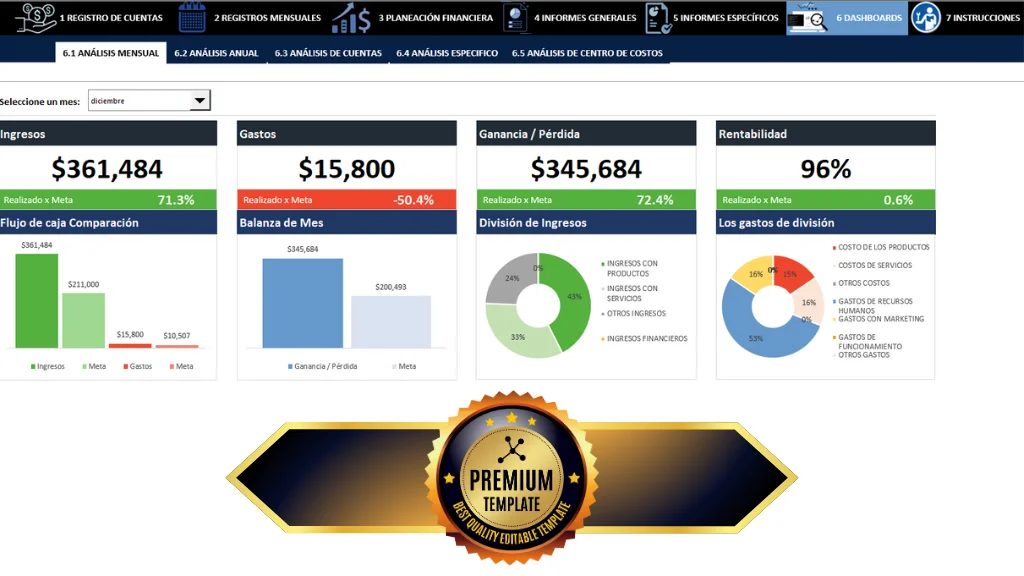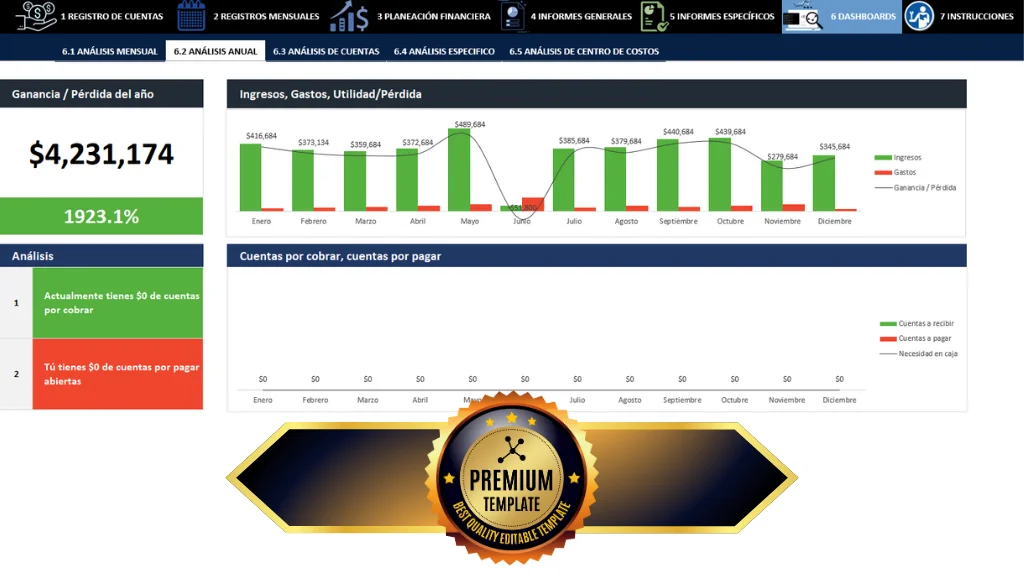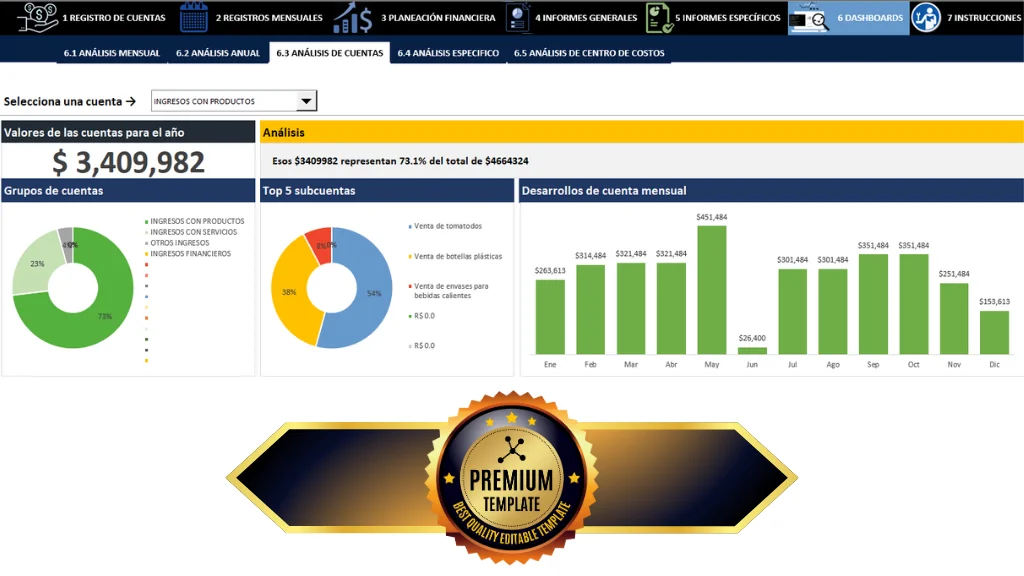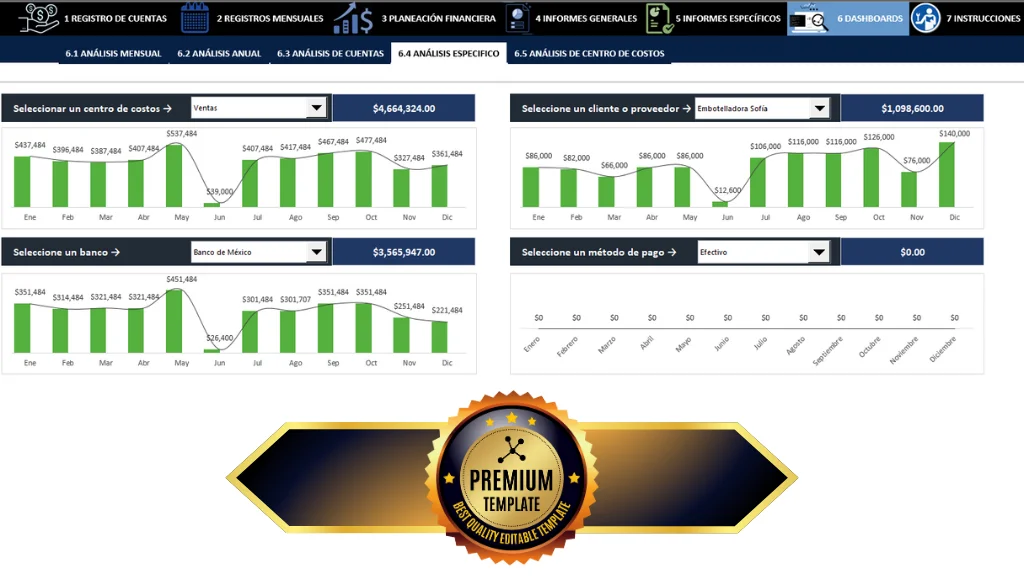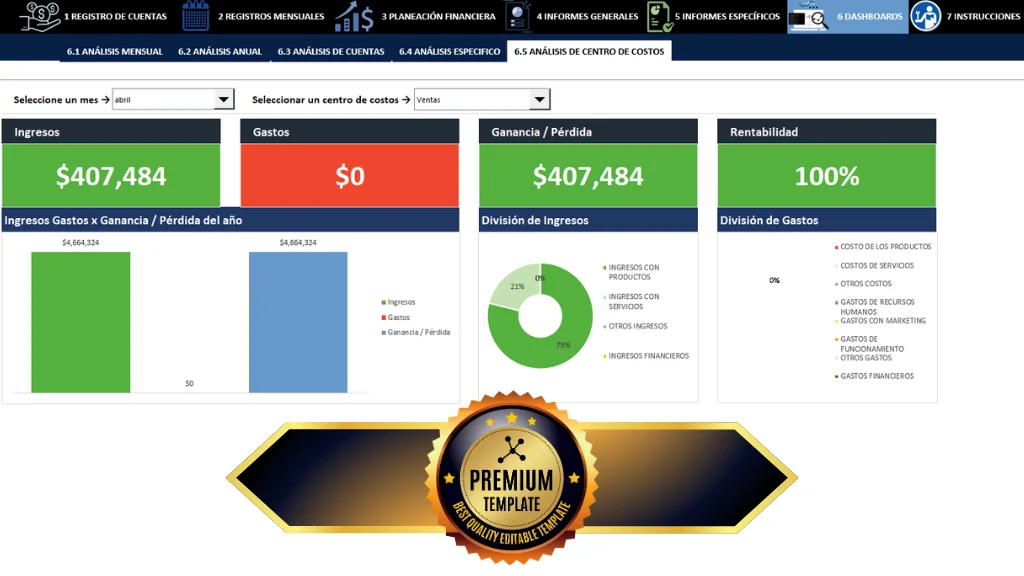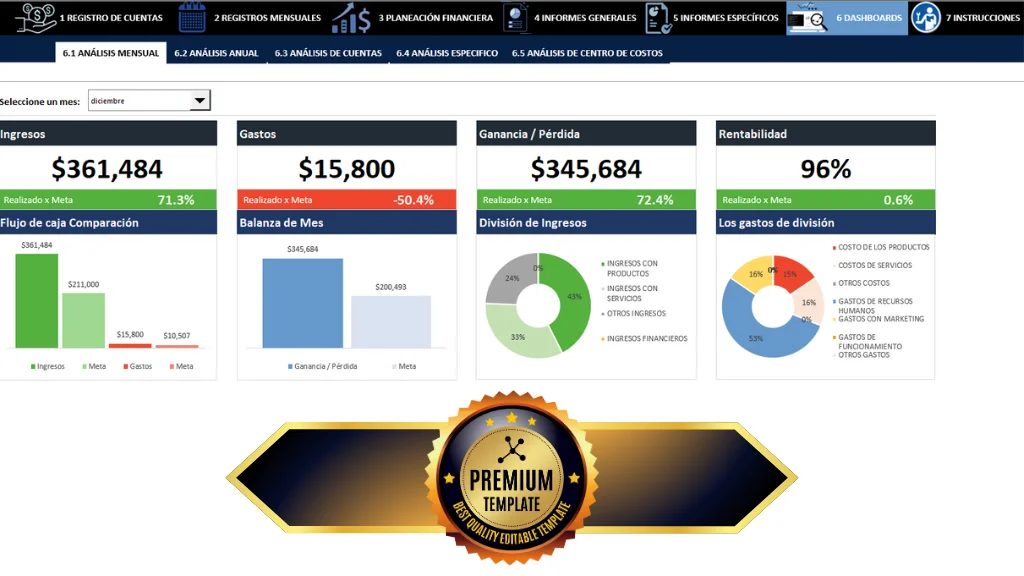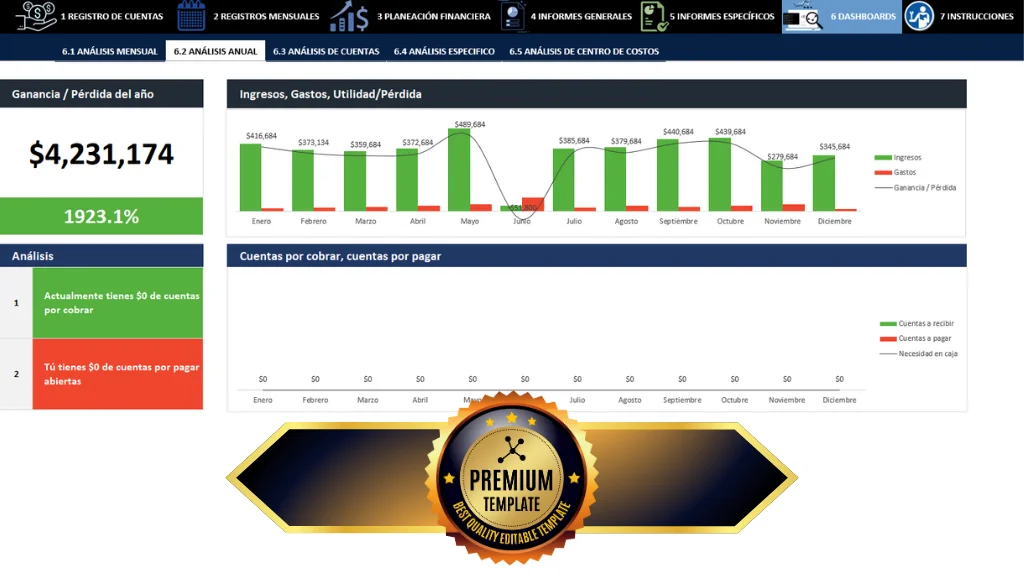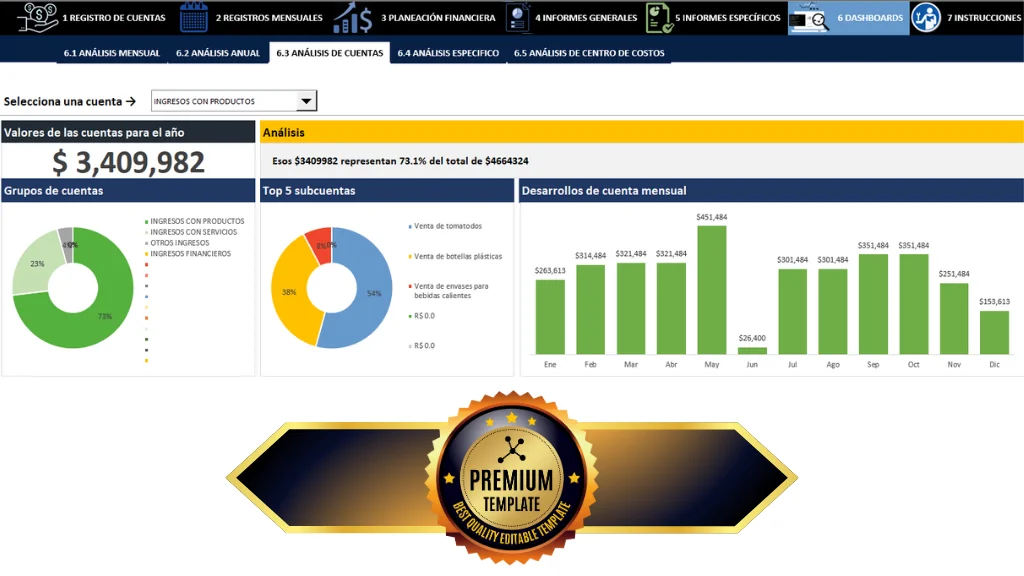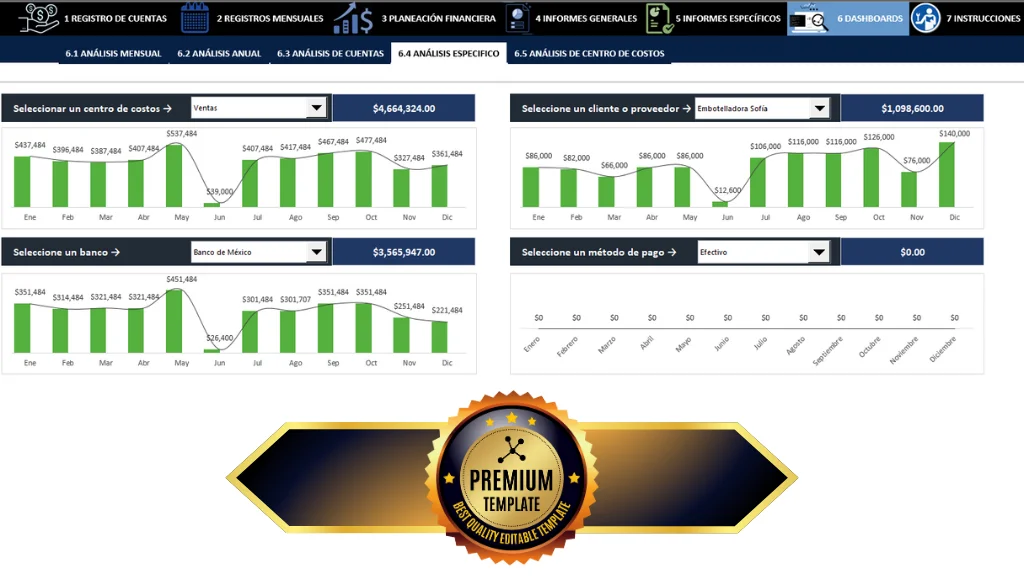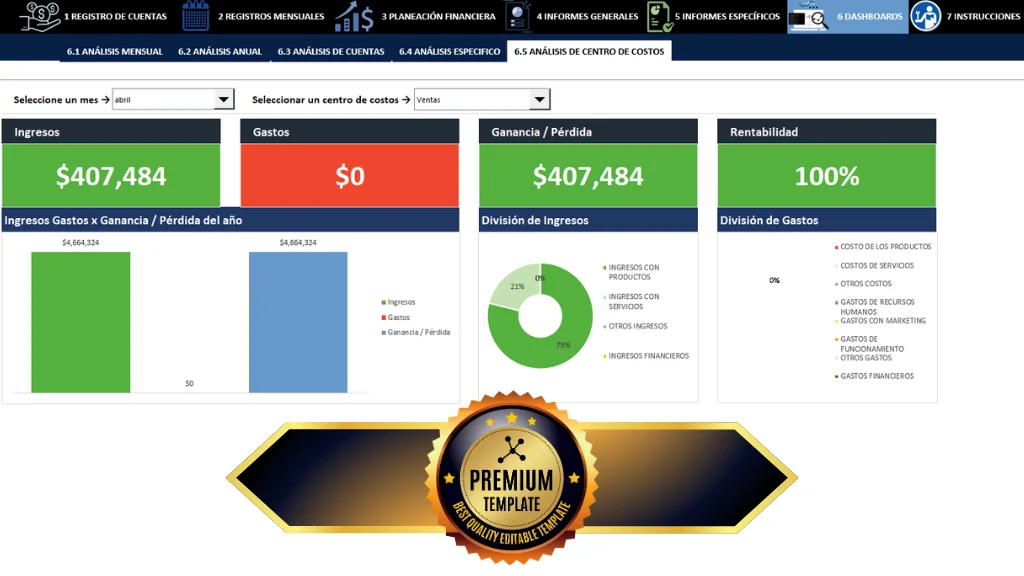 Purchase the complete financial control template. Record the income and costs (expenses) of your business so you can control it. The template adapts to any business, you can customize the income data according to your needs.
Record your data once and then stay in control
Control your monthly earnings
Review your expenses and how you could save
Plan your monthly income and expenses
Control your accounts payable and receivable
Control your business through interactive Dahsboards
Check your cash flows at each of the banks
Review your daily transactions by each bank.
Verify the means of payment of income and expenses
Functions of the complete financial control template
This financial control Excel template is very useful for personal business or corporate business. The financial control template is organized into seven (07) sections that allow you to navigate intuitively, each of the sections serves to record data or view the results of your operations. Each of these sections are 100% editable (except for titles or headings, we do not recommend changing them). Below, we detail the content of each of the sections.
1. Account Registration
You can register the following data:
Income from products you sell.
Income through services you offer.
Other income.
Financial income.
Cost of products.
Cost of services.
Other costs.
HR expenses.
Marketing expenses.
Operating expenses.
Other expenses.
Financial expenses.
Taxation.
Investments.
Cost centers (sales, costs, payments, etc.).
Register the banks in which you have money.
Register payment methods.
Register the data of your customers (names, contact, balances, comments).
Register transfers between banks [listas desplegables]

2. Monthly registrations
In the financial control template records month by month the financial data of your business, in this sheet you can record all the data of income and expenses of your business. The income, costs and expenses will be classified by type and you can choose them through drop-down lists, which you have registered in the Data Registration sheet. The data you can register here are:
Date of registration (e.g. when the sale was made)
Classification of financial data (income, cost, expense) [Lista desplegable]
Chart of accounts (to further classify income and expenses) [Lista desplegable]
Items you have income for or pay for
Payment method, both for income and expenses [Lista desplegable]
Bank at which payment was received or from which payments are made [Lista desplegable]
Cost Center [Lista desplegable]
Customer or supplier [Lista desplegable]
Value of income, cost or payment
Date of payment
3. Financial planning
To be in control of your business you must have a clear idea of your monthly goals, both income and expenses, it is the only way to predict your growth and set specific income and growth goals. This Excel template has a section specifically suited to record those planned values month by month and for the entire year. The data you are going to register are the following:
Target monthly income is the income you expect to have month by month throughout the year.
Costs and expenses goal, are the expenses that you expect to have month by month throughout the year.
With the two previous data (registered monthly) you can calculate month by month the results you will obtain throughout the year, verifying the difference between the planned values and the actual monthly values. The complete financial control template is made with formulations and conditionals that will allow you to quickly see if the results of your business are positive or negative (with colors, positive or negative values).
4. General reports
Here the magic begins, in this section of the complete financial control template you will be able to visualize the values that will allow you to make decisions. The reports are classified by Cash Flows and Income Statement and you can print them easily. Both the Cash Flow and the Income Statement have filters that will allow you to keep a detailed track of what is happening in your business.
Cash flow
General filter , will show the complete outline of balances, income and expenses, as well as results (profit or loss) month by month. You can also measure the profitability of your business.
Filter by banks, allows you to see the amount of money you have month by month in each bank
Filter by Cost Centers , allows you to see filter the amount of money from sales, cats and other cost center that you assign in the Account Registration section.
Filter by customers or suppliers, you can check the monthly values d for each of the customers or suppliers (income and expenses).
Income statement
General statement, shows the monthly results of your profits, the contribution margin, the profits or losses and the EBDITA.
Detailed status you can filter the detailed status of each of the concepts of income, costs, cats, taxes (VAT, IGV, other expenses that are paid to the state) and everything you register as a concept to control.
State by bank, filter the money you have monthly in each of the accounts of the banks you have registered. In each bank you can see the balance, how much money came in, how much went out and the profits or losses recorded in the bank you selected.
State by cost centers, filter the money from each of the reserve centers you have registered. Cost centers can be classified by income, expenses, taxes, operational costs or otherwise, depending on the type of financial control that your accounting takes.
Status by customer or supplier , filter the income for each of your customers or the payments you made to your suppliers, payments of panillas month by month.
The complete financial control template is set up to print , in one click to have all your financial reports of your business on paper.
5. Specific reports
Targeted reports will further help you make decisions based on your business results. In this section you can access the following data:
Results of the day, monitor day by day your income and your payments or expenses, you can filter month by month, each month has the financial detail by day.
Open accounts, record the open accounts you maintain in your business, every month.
Accounts payable and receivable, review your income and expenses that are pending payment
Banks, check the monthly cash flow in each of the banks where you have the money of your business
Forms of payment, you can review in detail the means of payment by which you have received the money and the payments or expenses you have made, you can make a monthly monitoring of the means of payment to better channel your sales.
6. Dashboards
The section preferred by users is Dashboards. Dashboards are various graphs that show the financial results of your business, you can quickly know if your business has profits or losses.
Monthly analysis dashboard , graphically shows in bars and circles the income, cats, profits or losses and the monthly profitability of your business.
Annual analysis dashboard , compare the financial results of your business, you can see the evolution of your profits monthly.
Account analysis dashboard , you can filter income and expenses by type and you will quickly see the top of the most relevant accounts, the monthly account development, the groups of accounts that present more movements and finally the accumulated value of each of the accounts.
Specific analysis dashboards , contains 4 filters (by cost center, by customer / supplier, by bank, by payment method), the filters activate the dynamic graphs of the dashboards.
Cost center analysis dashboard, you can select a cost center and at the same time the month you want to analyze them, is a double dynamic filter that shows the monthly graphs of the dashboard.
7. Instructions
In this section you will find important information about using the template.
General characteristics of Complete Financial Control Template
100% editable in MS Excel, you can include additional data in pivot tables.
More than 30 spreadsheets made in Excel with filters and complex formulas.
Excel template that does not require the execution of macros, we only use Excel formulas; Therefore, the template will always work.
Editable file in any version of MS Excel (.xls or .xlsx) and exportable in PDF or the format you want.
Free download other templates in editable MS Excel format and use it in any personal or professional project. We have no restrictions on use, we only ask you to mention us in your publications or on your social networks. You can also download thousands of free PowerPoint and Word templates.
If you need more information on how to use this Dashboard in Excel, you can visit their website where you will find many tips.